eVSM Mix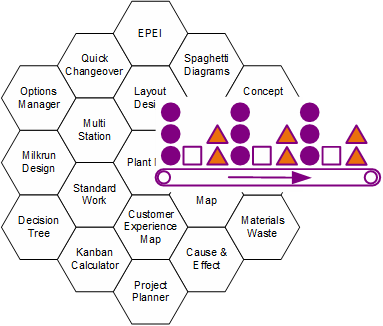 eVSM Mix's new Mix engine provides the tools needed to value stream map and improve mixed model production environments. It includes all the capability of the eVSM software and in addition the following advantages to applications built with the new Mix engine.
eVSM Mix removes averaging of product demands
eVSM Mix removes averaging of cycle times across products (so called weighted average cycle times)
eVSM Mix removes averaging of routings across products
By removing so much averaging, eVSM Mix makes data input easier, makes analytics better, and maps more useful to SEE the value stream and improve it. Its a must-have for those involved in mixed model production.
Pre-requisites are Microsoft Visio 2010 or later, Microsoft Excel 2010 or later, Windows Win7, 8 or 10.
eVSM Software delivery is via direct download. 
Pricing Details
eVSM Mix is available at a company level and at a division level for larger companies. It is not available as single user licenses other than for 30 day evaluation purposes. The Annual License Fee is $995 + a per employee increment and depending on the total number of employees.
The incremental fee is on a sliding scale. Its based on company size in employees and not software users.

$1 per employee for the first 20,000 employees
$0.75 per employee for next 30,000 employees
$0.5 per employee for next 50,000 employees
$0.25 per employee for employees over 100,000

Site License Calculator

Enter Total Employees

Annual Total $:  

Max # of Users:  
The maximum number of users is the annual license fee / 200. If additional users are needed than this can be achieved by increasing the license fee.
Pricing will include access to available hands-on eLearning modules with formal certification, and will include technical support for those who have become certified through this system. Deployment leaders will be provided access to a web-based dashboard to monitor learning and certification progress.
Pricing is fixed and under the standard EULA (End User Licensing Agreement). Credit will be provided for 2 situations:
Pro-rata credit will be given against the first year eVSM Mix license fee for maintenance fees paid on existing eVSM licenses and at a max of $145 per license
For annual fees in excess of $20,000, a one time $5,000 credit will be provided against the first years's fees for usage on eVSM deployment services.
The eVSM site license may be purchased for the whole company, or may be restricted to a division or a site. "Total Employees" is the total count of full or part time employees for the whole company, division or site.
The site license is restricted to a maximum total number of users. The calculation for this is simply the total annual fees divided by 200. If the default max # of users is insufficient, you can add more at $200 per year per user.
Please contact info@evsm.com for further details.