Workshop Room
Class size should be limited to 10 attendees. Bigger classes will impact quality of the training and run the risk of leaving some trainees behind. Trainees need sufficient room for their PC's as well as for the training paperwork.
Equipment Requirements:
One PC per attendee with Visio, Excel, and the current version of the eVSM software
Computer mouse (this is essential for some of the exercises)
Sufficient power strips for PC's
Projector and projection screen
Flipchart or whiteboard
Room layout needs to allow for plenty of elbow room for trainee notes and computers.
Ideal room layout: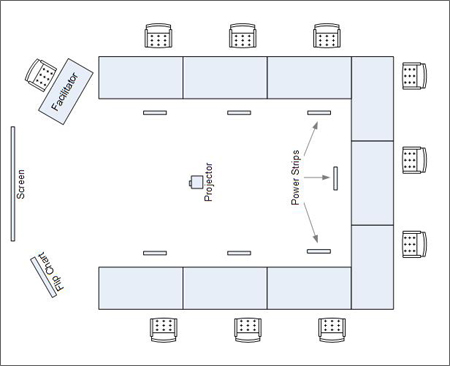 The following information should be sent to the attendees:
1. Date, Start/end times, and directions to training room.
2. PC System Requirements
PC with Windows Win7/Win8/Win10
Visio 2010/2013/2016/2019, may be Standard or Professional edition
Excel 2010/2013/2016./2019
Computer mouse 

<---- IMPORTANT
3. Attendees must have the current version of the eVSM Software Installed. Follow these steps:
If eVSM is already installed, check what version it is by clicking "Start>Programs>eVSM Software>About eVSM"
If any older version is installed, un-install the older version through the Windows System dialog
Install the current version of eVSM from https://evsm.com/trial